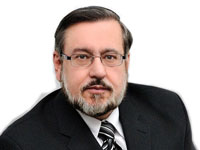 Dr. Frank Dimant, CEO of Christians United for Israel (CUFI) Canada at the behest of Christian leaders has begun organizing on a fast track the 2016 series of missions to Israel wherein Christian pastors, leaders, scholars and lay people will participate. In addition, Rabbinic leaders and Jewish lay people will join CUFI CANADA in a United Solidarity Mission to the State of Israel and its citizens.
Dr. Frank Dimant, who is recognized as a leading spokesperson for grassroots Jewry, will be travelling this week to Israel. He explained, "It is a time for proactive advocacy but also a time to set a personal example".
In addition to planning and coordinating the critical missions, he felt a personal need to be with the people of Israel at this time and to touch the Holy Wall to offer a prayer for the Jewish state and its families. He plans to walk the streets of Jerusalem in solidarity with those facing the knife intifada.
As an honorary citizen of the ancient city of Hebron, he further said, "I intend to visit the Jewish community in Hebron to demonstrate that it will never be forgotten by Jews around the world. We must always thank these individuals who ensure that there is a vibrant community filled with Torah values in the land that was promised by the Almighty to the Jewish People".
Those individuals, Churches and Synagogues who wish to enquire about participating in the mission program should please contact CUFI CANADA's Director of Communications, Rabbi Shlomo Schwartz, at 416-839-2090 or shlomo@cufi.ca
Christians United for Israel (CUFI) Canada is gravely concerned over the appointment of Member of Parliament Omar Alghabra to the Position of Parliamentary Secretary to the Minister of Foreign Affairs by Prime Minister Trudeau.
Omar Alghabra was once refused entry to the US by American officials. He actively supports anti-Israel events in Canada and the boycott of Israel and has repeatedly condemned Israel as a "brutal" country favouring instead Hamas and Hezbollah, renowned terrorist groups.
Omar Alghabra used to head the Canadian Arab Federation which lost Federal funding because of promoting anti Canadian values in programs it was running for new Canadians
Mr. Trudeau's elevation of Omar Alghabra to a senior government position appears to herald in a new era in Canada Israel relations. Placing him in Foreign Affairs seems a reversal of the Prime Minister's own promise to not change the substance of Canada's relationship with Israel.
In addition in his new portfolio he may be instrumental in having input in influencing the security criteria that will be used to flush out terrorists and radicalized families and individuals in the rapid processing of refugees to Canada. This possibility is causing much consternation among Canadians concerned with national security.
—– 30—-
Christians United for Israel (CUFI) Canada sends condolences to all families bereaved and traumatized in San Bernardino today. The rage preached by ISIS in person and over the web that has devastated Belgium, Israel, Mali, Nairobi, Ottawa and Paris has now found California.
We appeal to Prime Minister Trudeau to take a forceful approach to all terrorists who preach or incite hate in Canada. He must make it clear to them and us that inciters of hate will be removed from Canadian soil.
FOR IMMEDIATE RELEASE
Christians United for Israel (CUFI) Canada is heartened that its voice together with the voices of other concerned Canadian citizens have persuaded Prime Minister Trudeau, Immigration Minister John McCallum and the Liberal government to amend the original promise to resettle 25,000 Syrian refugees into Canada before the end of the year. There was much concern over security and the Canadian people have now been given assurances that all security checks will be done overseas.
CUFI Canada hopes that foremost among the eligibility criteria be the ability and desire of each refugee to integrate into Canadian society. Success in this regard will give us the experience and confidence to help even more unfortunates in the future.
CUFI Canada also commends the Trudeau government for voting at the United Nations together with Israel against six non-binding resolutions, drafted by the Palestinians and Syria, singling out and criticizing Israel. These resolutions were adopted by the majority of other UN members so it is heartening to observe Canada continuing its voice of moral clarity and courage at the UN.
CUFI Canada, the largest pro-Israel advocacy group in the country, is concerned that Justin Trudeau may be abandoning his campaign promises. As a candidate to become Prime Minister, Trudeau had promised to maintain the substance of Canada's exemplary relationship with Israel, modifying only the tone. However, just sworn-in Stephan Dion promises his ministry at Foreign Afffairs will return to the role of "honest broker" vis a vis Israel.
Israel already has many "honest brokers" among the Europeans. What Israel, a democracy surrounded by terrorist states and dictatorships needs is friends it can count on.
Canada needs to maintain the moral clarity to differentiate between sister democracies and violent, terrorist states if it is to strengthen and help its many strong friends and allies among whom Israel has always been counted.
For further information please contact
Dr. Frank Dimant, CEO CUFI Canada
416-727-7154
Toronto Canada Oct 21, 2015
Prime Minister designate Justin Trudeau today confirmed to President Obama his intent to keep his campaign promise to stop bombing Islamic State terrorist forces in Iraq and Syria.
Dr. Frank Dimant, CEO CUFI CANADA (Christains United For Israel) stated that " This promise was no doubt made in the same spirit of pursuing peace with which Obama promised to close Guantanamo Bay detention camp.
Insofar as Obama has delayed implementing that promise until he could satisfy the surrounding security concerns, we hope that he assured Mr. Trudeau that he and everyone else would understand, if Mr. Trudeau deemed it prudent to delay the actual implementation of this campaign promise, until security requirements were satisfied that civilians in the region were safe .
"Let us not abandon our allies on the battlefield against Radical Islamist Terrorists."
For immediate release
Dr. Charles McVety, National Chair, and Dr. Frank Dimant, CEO of CUFI Canada (Christians United for Israel) issued the following statement:
CUFI Canada congratulates Justin Trudeau and the Liberal Party on their electoral success and looks forward to working with the new government towards the same goals that all three major political parties have always expressed, namely, security and peace in the Mideast for Israel and all its neighbours. We appreciated the Harper Government's moral stand in defence of Israel and we are hopeful that this Government will continue to view Israel as an ally and not seek a position of neutrality.
CUFI Canada also applauds its fellow Canadians for their participation in this year's federal election which once again demonstrated the great civility of Canadians as they expressed, examined and formulated their political will in an entirely peaceful manner. Such civil conduct is not necessarily standard.
Just while Canadians were conducting their peaceful vote, Hamas leaders in the Gaza territory were encouraging and goading their Palestinian brethren in Israel to conduct suicide bombings and "car attacks" which occur when a civilian car suddenly veers out of traffic and plows into a group of innocent and unwarned pedestrians.
At the same time, PA Chairman Mahmoud Abbas also incites his people to engage in any form of violence they can muster against any Israeli they can access, children included. His incitement extends to the children of his own people thus guaranteeing they grow up with blind hatred, immune to offers of peace.
We know that Justin Trudeau, who is on record for both condemning terrorist attacks by Hamas and guaranteeing Israel's right to security, will want to position Canada against such incitements and non-peaceful demonstrations of political aggression and we at CUFI Canada look forward to assisting our government find such solutions.
— -30-
frank@cufi.ca
Thursday July 30, 2015
Toronto, ON
Following an incident at Canada's largest modern Orthodox synagogue, which included hooded individuals photographing the synagogue and yelling threats, it is imperative that all synagogues take strong measures to upgrade their security.
Equally important, CUFI Canada has reached out to churches and religious schools across the country to alert them of the incident, and at the same time to encourage them to seriously plan to introduce appropriate security measures for their places of worship and study.
Churches have long been the target of radical Islam throughout Africa and the Middle East, and as Canada has always been listed as a potential target for these radicals it is imperative that a higher sense of security and awareness be imparted to churchgoers.
CUFI Canada has undertaken to provide expertise, guidance and advice which will include working with the various police forces and national security agencies to ensure that churches be provided with the appropriate security measures necessary.
There is no room for complacency in Canada. Our Prime Minister has cautioned Canadians that we must be on the alert and be proactive when it pertains to security and safety vis-à-vis radical jihadists. We are calling on churches who may be soft targets to reassess their security protocols.
Church leaders are invited to contact CUFI Canada's CEO who has extensive experience in working with organizations relating to security. He can be contacted at frank@cufi.ca
-30-
For further information, contact Ken Bailie at 416-391-5000 x. 226 , an office of CUFI Canada
Canada Christian College